Google Assistant Tips
Published on
I use Google Assistant daily with the commands below and thought it was just OK, but then I tried the magical BabyConnect "Conversation Action."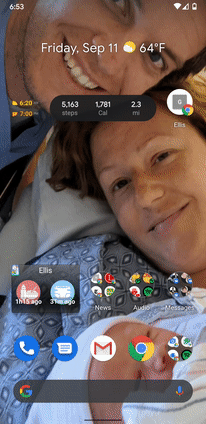 As you can see in the animation, you say something like "Talk to BabyConnect to log a mixed diaper" and it dispatches the message to the BabyConnect servers to do your bidding. With a newborn your often hands free, so being able to talk to an app really feels futuristic. Usually I hate such "Chat Bots" but I literally reveled for an entire day in how natural and useful this particular action is.
The other actions that I use include:
Set the scene to daylight which controls my smart lights
Set a timer which we routinely use for cooking
Add <item> to the shopping list which I can manage with Google Keep
Play the news which I've configured to play the NPR hourly news
Play WBUR which it knows to stream from TuneIn
Play Foo Fighters which it knows to do in a music app
What's the weather? which says the weather
My favorite skill is "Memory Aid" which you can trigger with "Remember that <something>" and then you can ask it "What/where is <something>?" I meet a lot of neighbors with dogs and I can remember the dogs' names but not the parents, so I use this routinely has "Remember that Rover's parents are Jack and Jill." Similarly when my son got sick, I was having trouble remembering the medical name of the bacteria, so I said "Remember that Ellis got the bacterial infection Campylobacter jejuni"
Also, living in a neighborhood with roughly 50% Spanish speakers, "Be my Spanish interpreter" is an amazing skill too!
Popular Posts
Post Navigation