About Nat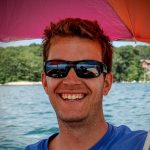 Nat Taylor is a Greater Boston Area software professional currently building machine learning software as a Product Manager at Nanigans. He earned a degree in Physics with minors in Mathematics and Computer Science from Connecticut College in 2009.
Lauded by the East Boston Times as one who "begins online links" ?, he has a penchant for web design.
He is an avid sailor and winner of the 2014 Rhodes 19 Class National Championship. He is also a general technology enthusiast and web consultant. nattaylor.com is his personal website, that is related to, but separate from Nat Taylor Web Designs where he offers web design services. Some of his projects are open source on Github.
He's married to a Boston nutritionist named Amanda, and had a cocker spaniel named Sadie. He's taken steps towards a green home.
His extended family is on the web too. His uncle Joe is on WikiPedia because he won the Nobel Prize in Physics, and he has a cool project for weak signal processing too. My aunt and uncle's Old Way's Traditions site is fun too.
About nattaylor.com
This site is where I publish original content that I want share, ranging from photographs, to travel logs, to software development musings. It is one of the approximately 74M sites using WordPress, with a theme focused on content and speed. I registered this domain around the year 2001 and signed up for one-time fee hosting (a $20 investment that lasted more than a decade) where I ran a coronto instance (among other things) before (we)blogs were cool, though thankfully most of that content is gone. Now I pay a whooping $10 annually to amazing folks at VPShared.com.
Contact Me
Shoot an email to nattaylor@gmail.com and I'll do my best to get back to you.
Questions & Answers
Can you help me build my app?

I do not claim to be a native app developer, so I cannot help you build your app.

Can you help me build a site?

I love making websites, so I'd to hear about your idea but depending on the scope I may be unable to commit since I am working full time.

Can you help me improve my site?

Yes, I love doing that too. Email me about your needs!

Can you help me buy mobile ads?

I can't offer you any special discounts, but I can explain how to buy with Aol.