Analyze Boston SQL Client 1.0 Release
Published on
I am proud to announce the 1.0 release of the unofficial browser-based SQL Client for Analyze Boston at https://nattaylor.com/labs/analyzeboston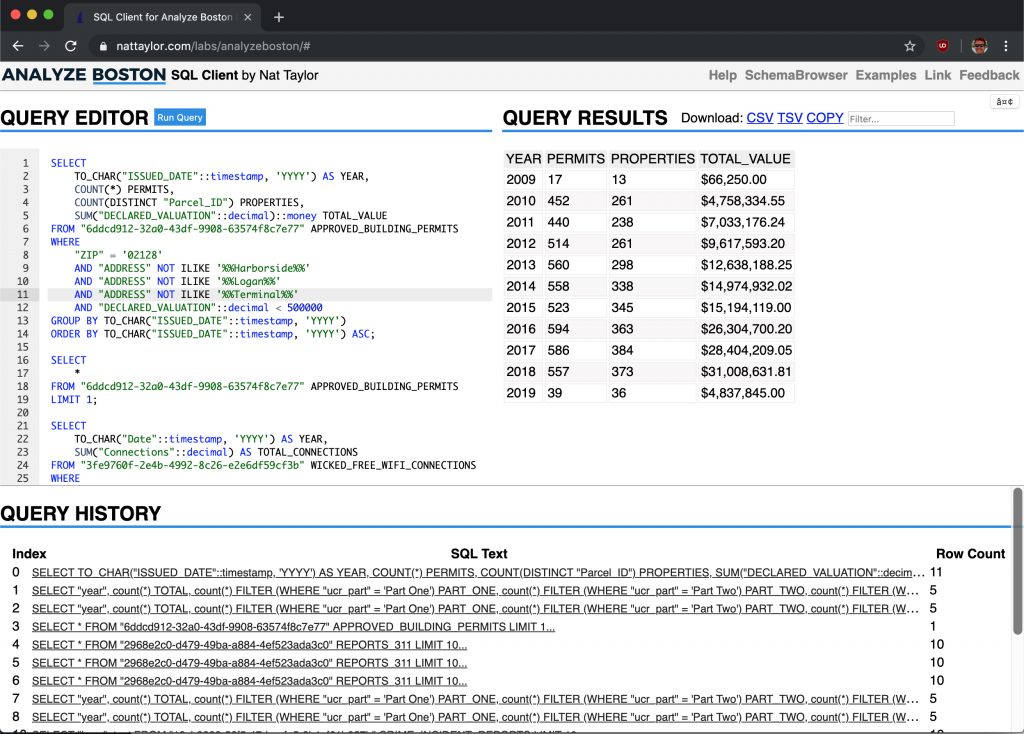 Version 1.0 now offers a very approachable UX. This screencast offers a walkthrough of the new features https://youtu.be/eKUrV0yQCW4
Notable New Features include:
Help screen is now much more detailed including an overview view.
Query Worksheet supports multiple queries and rich autocomplete including table names, column names and data types
Query History The query history panel enables retrieving previous results
Query Results now features filtering
Schema Browser enables users to discover the available datasets
Design Consistent styling and design
Error Handling is dramatically improved with the introduction of a proxy so that all errors can be returned.
The code is messy and abuses the global namespace. There are a few places that aren't very DRY and could be easily fixed, but fixes the remaining problems will be challenging because I haven't adopted many common design patterns.
Even so, this was a very rewarding project to work on and I learned a ton. I will publish the code on Github soon.
Popular Posts
Post Navigation