Finishing Second at 2015 Rhodes 19 Nationals
Published on
Our 2015 season was filled with ups and downs.  Coming off our 2014 victory, we finished fifth and East Coasts and seventh at Race Week, and weren't sure what the pecking order at Nationals would be, especially since we were sailing with a different crew and we'd previously lacked boatspeed in the forecasted conditions.  What we were sure was that it was anyone's event and therefore we didn't feel too much pressure. In the end we finished second, led after Day 1 and reclaimed the lead in Race 8.  Our finishes were 1, 5, 1, 3, 13, 6, 9, 2, 5, 5 and we lost by 6 points. Overall we sailed extremely well and managed to go fast despite being a relatively heavy boat in lumpy, light conditions, but we weren't without our challenges.
The following are my event wrap up notes, which include some tips.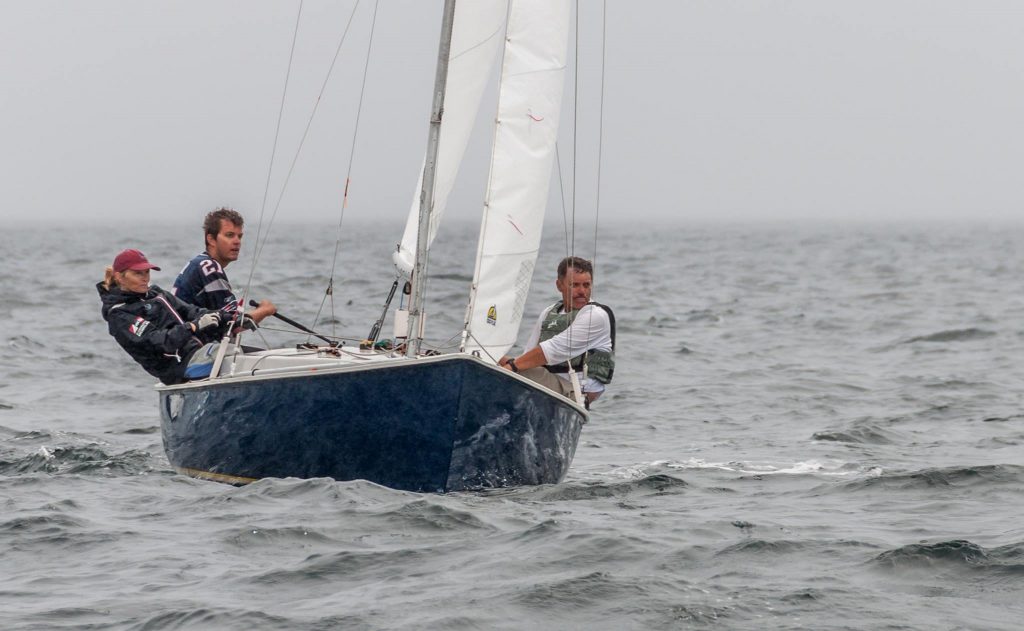 The Good
Our starts and boatspeed were excellent and we managed to 'hang' really well when we were back in the mix.
Starting in Big, Good Fleets
We had 9 of 10 good starts.  Unfortunately our only bad start came in the final race, which left us with no option other than to basically bang the right corner.  It almost worked, but wasn't quite enough to get in front of the winners.  The keys were:
Don't over commit Setting up too early, too close to an end or too close to another boat is a death sentence in big fleets; instead setting up with some runway with room to protect ensures a reasonably good start with far less risk.  In a Rhodes 19, this usually means setting up about half-a-bow back from your competitors and with a hole of about half a boatlength.  That's usually enough room and space to accelerate without taking on too much risk.
Don't be Greedy You want a hole that you can mostly fill by pivoting, which means that it can't be too big.  If you have to protect your hole by trimming and sailing, then after you're done protecting you'll have momentum which will inevitably cause you to creep closer the line and may involve you going head to wind, which will make your hole look big again and tempt more hole-stealers.  Just "park it and pivot."
Jib Trim
We sailed with an almost brand new jib.  It was fast and Cindy did a great job trimming it.
Communication Cindy seemed to be able to anticipate any feedback I had, asking me about the potential change before I spoke and often before I thought about it!  It's amazing how much this helps and Cindy deserves tons of credit.
Sheet Tension Buddy Melges always says that the first thing to do when you're going slow is ease jib; Cindy seemed to use this strategy and as a result I felt like we always had healthy flow over the jib and through the slot.
Lower Shroud Tension
Our boatspeed was great especially given the light, lumpy conditions and our heavy crew weight.  We took a big risk and sailed with much looser lowers than normal without having done much testing, and it paid.  I attribute the great speed to two factors.
More Mid-leech Return With looser lowers the hounds sag off to leeward taking the luff with them, all without changing leech, thus increasing the angle of attack and therefore producing more force.
Increased Ability to Ease We'd previously observed that tighter main trim loosens the lowers since they are swept back, thus looser trim results in tighter lowers.  Sailing with lots of twist is fast in waves which requires relatively loose sheeting, therefore we think extra loose lowers allowed for us to sail with both a loose upper leech and powerful mid leech.
The Bad
We didn't have much 'bad' but unlike last year we had lots of small mistakes and one big one that all eroded out chances of a repeat.
Down To The Wire
Despite our challenges in Race 7, we entered day three ready for a dog fight.  Points were close in both directions and we weren't sure how many races we'd sail.  As such we elected to just fleet race, rather play any games.  Race 8 went well, as we regained the lead with a second place finish.  Unfortunately the race winner was in third overall and the third place finisher was in third! With the points basically even entering Race 9 and a strong chance of sailing a tenth race, we opted to basically just fleet race once again.  We had basically one shot at the winners but couldn't capitalize and they went on to beat us handily, even putting three boats in between us. We set up boat-third for tenth and final race but got caught up with another boat who was pushing the line way too hard.  It's possible we could have bailed around 90 seconds, but with the I-Flag up we took a risk that the boat would be over.  Unfortunately they weren't flagged and we quickly got flushed out forcing us to tack and tack lots of sterns on the way to freedom.  Despite this costly mistake, sailing alone on the right was fast and clawed back to fifth, and never really got close to putting the three boats between us and Nelson that we needed to win.
The Ugly
Collision
We gave up far too much in Race 7 and ultimately it may have cost us the title.  We finished 9th, which was our second worst finish, better only than the race when we went left when the breeze went right and more than twice as bad as our average excluding.  Worse than the points though, the race cratered our confidence while simultaneously allowing Nelson to finish the day with the lead.  We were involved in a collision at the first windward mark, getting sandwiched between a boat to windward and a boat tacking inside, all within 3-4 boat lengths on a very close layline.  We protested for 18.3a (tacking in the zone) and they protested for 11 (windward-leeward,) which put me into a state of fear since generally the outcome in the room is 50/50.  Things spiraled downward from there.  We made bad choices, came out on the wrong side of close calls and gave up boats all the way to the finish.
Final Thoughts
Sailboat racing a challenging, but rewarding game.  Over the course of ten races there are countless opportunities to gain or lose a boat, and all of them count in the end.  It sure is fun though.
Finishing second is bittersweet: it feels good to finish second given the competition but it's a huge disappointment to miss out on back-to-back titles.  However, it was an experience that will stick with me for quite some time.  It made me realize just how hard you have to push to win, when everyone else is pushing too.  Good starts alone are not enough.  Good tactics alone are not enough.  Good speed alone are not enough.  It takes the complete package and a tremendous amount of consistency to win a championship in a competitive fleet.
Thank you Dad and thank you Cindy for such a great event!
Popular Posts
Post Navigation