Big Boi at Paradise Lounge
Published on
Last night I witnessed an amazing show by Big Boi with performances by Killer Mike, Sleepy Brown, Real T@lk and Renegade El Ray.  My ears are still ringing.  The set list was sick.  The energy, particularly from Killer Mike, was unreal.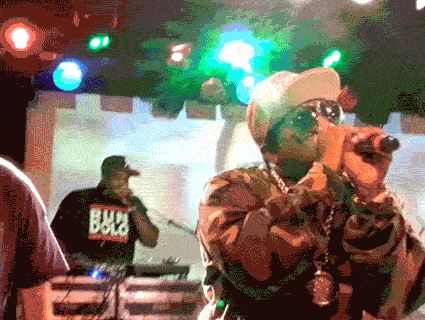 If you're still saying "um, what?" you need some Hip-hop edumacation and I advise you to go back to your childhood and remember some big Outkast songs like "Bombs over Bagdag" or "Ms. Jackson," and checkout out "Sir Lucious Left Foot: The Son of Chico Dust."
Highlights
Killer Mike

Killer Mike's set was incredible.  With the help of his booming voice and quality lyrics, I really felt the passion with which he loves playing music.  He brought himself to tears playing "F*ck Ronald Reagan," a song about the way he thinks American politics shaped the country as he grew up in the South in the 1980s.  Then to end his set, he got into the middle of the crowd and looked us all in the eyes as he sang about the incredible joy brings to his life.  Finally, he made everyone laugh as he walked offstage and said "Thank you Boston, Ima go smoke a blunt and watch Breaking Bad."

Inches from the Stage

We lucked out and got to stand first row, and I often forget how incredible being close to a performer is: it's insane.  We could have touched Big Boi, we did touch Sleepy Brown and twice Killer Mike got down low and rapped right in our faces.  Unreal.

Big Boi's Bum Knee

Big Boi was playing with a bum knee, which he injured in May and which caused him to postpone his June show.  To compensate, he had an ornate, larger than life, "King's Chair" where had to frequently sit down and adjust his knee brace.  It gave the show a raw, awesome feel.
More
Set list, photos and some video below.
Popular Posts
Post Navigation