Announcing: Boston ZBA Cases Archive
Published on
I just published an archive of ZBA appeals cases to the Boston Zoning archive at https://nattaylor.com/eastboston/boston-zoning/. I believe this is the first time that Boston ZBA's minutes, which document appeals, are available as structured data, and I am excited to offer it to the public! I hope folks find it useful.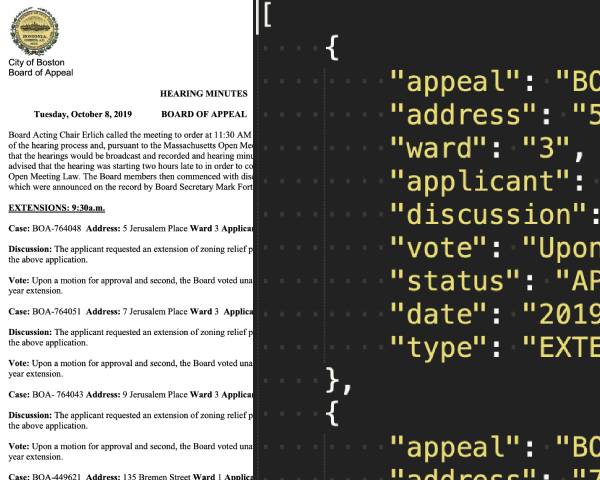 The cases archive is offered as a collection of JSON documents that follow the Boston Zoning Appeal Archive Specification. JSON was chosen over a tabular format since the data is quite wide and the contents are unpredictable, so a delimiter format like CSV is not suitable.
The archive currently contains 2,959 from January 2017 to October 2019.
Below are a few examples of what can be done with the data.
The ZBA Minutes are enhanced in a few ways, most notably:
Parcels For GIS use cases, the appeals are linked their GIS Parcel ID from the City's assessing data, so that it is easy to map the cases.
Zoning Code For users unfamiliar with the zoning code, lookup-articles.json is offered to add a description next to the code.
Cleansing The data is cleansed and normalized to remove typos, etc.
Top 10 Applicants
| | |
| --- | --- |
| Appeals | Applicant |
| 65 | Patrick Mahoney |
| 60 | George Morancy |
| 43 | John Pulgini |
| 34 | Derrick Small |
| 30 | Timothy Johnson |
| 26 | James Christopher |
| 25 | Timothy Sheehan |
| 25 | CAD Builders, LLC |
| 23 | Timothy Burke |
| 22 | Oxbow Urban, LLC |
Top 10 Variances
| | |
| --- | --- |
| Appeals | Variance |
| 639 | Dimensional Regulations Applicable in Residential Subdistricts |
| 438 | Dimensional Regulations Applicable in Residential Subdistricts Floor area ratio excessive |
| 418 | Off-Street Parking and Loading Requirements |
| 373 | Use Regulations Applicable in Residential Subdistricts |
| 211 | Dimensional Regulations Applicable in Residential Subdistricts Side yard insufficient |
| 198 | Dimensional Regulations Applicable in Residential Subdistricts Bldg height excessive (stories) |
| 187 | Dimensional Regulations Applicable in Residential Subdistricts Rear yard insufficient |
| 173 | Dimensional Regulations Applicable in Residential Subdistricts Usable open space insufficient |
| 149 | Roof Structure Restrictions |
| 134 | Extension of Nonconforming Uses and Reconstruction and Extension of Nonconforming Buildings |
10 Most Recent Approved Appeals