In Boston Mayoral Race, Voter Turnout by Ward Different from Preliminary Election
Published on
Today, President of MassINC Polling Group Steve Koczela posted a graphic of voter turnout by Ward for the Boston Mayoral election.  The tweet is copied below.  Note that the turnout is up significantly in many wards, compared to turnout in the preliminary elections.  There are about 372,000 registered voters in Boston.  The wards are laid out as designated in this PDF map of wards and precincts (cityofboston.com/maps)  You can information about the election at WBUR's Election Day in Boston page.
[raw]
Comparing how much of the electorate is from each ward in #bosmayor at each report, and compared to prelim. pic.twitter.com/6Ifa0qoj4C

— Steve Koczela (@skoczela) November 5, 2013
[/raw]
Percent of Electorate from Each Ward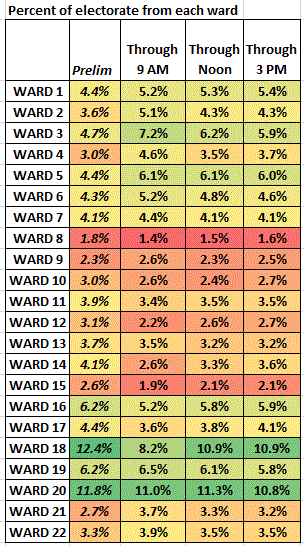 Further Reading
Commonwealth Magazine's "Where the voters are in Boston" has more coverage of voting in Boston.  In the last 30 years, voter representation in some wards has more than double; in other wards it's down as much as 40%.  They write:
In 1970, almost 38 percent of Boston's residents were under the age of 18. Today, children under 18 account for just 17 percent of our city's population. Furthermore, the average household size has decreased by almost 25 percent in the last 50 years.